If the saying is true that March comes in like a lamb and goes out like a lion, then we are roaring into April with some big updates!
Following the new design customizations launched in February, we're adding even more features and updating our user interface to accommodate the new developments!
We're also prepping for even bigger (and long sought after) developments in the next month or two that will help Map D become a more complete solution for event management.
As with all platform updates, these enhancements are provided at no cost to you and there is no action required by you except to use the new features should you wish to do so.
So what are these changes exactly? Read on for more details.
Welcome Page Builder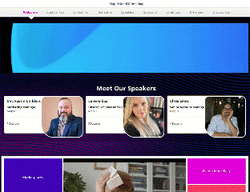 We're launching a drag and drop welcome page builder that will let you choose and configure different widgets to give you more control and elevated options for your event.
New choices include:
Lobby

- a great place to arrive! This section of your welcome page is made to greet attendees with an instantly streaming video and content you would like to highlight.
Scrolling Sponsors

- by popular request! Now sponsors can scroll across the welcome page.
Spotlight Custom Content - want other content to scroll, too? Use custom content to add images, text, and/or links to your welcome page. You can even schedule the content to display on different dates or times!
Video Player Upgrade - this one's pretty self-explanatory.

See it for yourself!
Legacy Content - and of course—if you like things the way they were before, you still have the option to customize your welcome page using existing elements.


Platform Enhancements
Customizable background images and logos on every page

- brand your event or showcase your event's location in new and creative ways.
New "dark" and "light" themes - we've given our user experience a nice little facelift and given you the option to pick standard "dark" or "light" themes for your event.
Customizable filter, detail, and bookmark button colors

- take the new light and dark themes a step further and customize colors as your own!
Schedule Customizations
General user experience improvements in sessions

- video content can now be front and center (when in use) and sessions "take the stage," so to speak, when viewed.
Pin all sessions in a given track to the top of a schedule

- for those super important tracks (or to highlight sponsored sessions).
Live video stream embeds in sessions

- for use when it's all about the video!
Sponsor logo display in sessions

- show off your sponsors (and sell new inventory) with this new potential revenue source for you!
Help Center on Desktop
Long available on mobile, now available on desktop! List event staff and resources like helpful links and documents, organized by stakeholders (exhibitor, attendee, speaker, etc.). Here we've shown the help resources an attendee might find at an event, which may be different from what an exhibitor might need.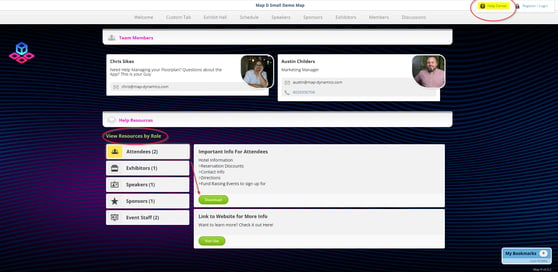 Visit our demo to see for yourself!
Still Have Questions?
Register now for our weekly group demo to join Chris, Austin, and (sometimes) Lane for a live demo and see the new features in action. Demo recordings and transcripts can be provided upon request to registered attendees.
Know someone who might benefit from using Map D?
Forward this email to a friend or email us and let us know who to reach out to.