ORLANDO, FL, USA – July 1st, 2021 – on June 30th, 2021 Map D, a company now part of Nextech AR Solutions, was recognized as the "Supporting Associate Organization of the Year" by the Florida Society of Association Executives (FSAE).
The FSAE Supporting Association Organization of the Year award honors a company or organization with at least one FSAE Associate member that has demonstrated outstanding efforts, excellence, and innovation related to its ongoing or special programs or services that benefit their industry, profession, or the association industry.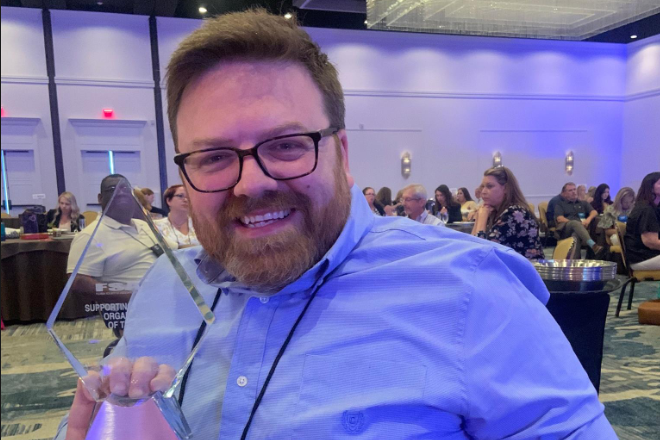 Jeremy didn't want to get too philosophical about the win for this post, but he was so happy!
"It's a profound affirmation that we are an important part of the community and a great reminder to keep fighting for what we believe in." said Jeremy Minnick, Lead Developer for Map D, who received the award on behalf of Map D and Nextech AR Solutions. "During a time of worldwide crisis, we stepped up to do what we thought to be right and the community we served is saying "thank you."
All FSAE award winners are determined using an objective points system based on questionnaire responses. Nominee responses are distributed to an awards committee for review. The nine-person committee then evaluates submissions as objectively as possible using a point system for experience; volunteer service and leadership; job/organizational goals and success; staff development; and unique factors.
Meg Tereniak, Strategic Account Manager at MemberClicks, a Personify company, shared the following when announcing Map D as the winner.
"With so many sponsors, hosts and active donors, selecting one winner is certainly a hard decision. However this year's winner is a company with a longstanding commitment, not only to FSAE but to the association industry at large through active involvement and authentic partnerships with several state association societies. Last year, when trade shows were canceled, that didn't get them down. They came together and delivered new solutions to their customers through their new virtual event platform."
Previous award winners have included companies and organizations like Hilton Worldwide, Marriott International, and MemberClicks.
Photo Credits: Russ Webb and Alexis Simoneau. Written by Austin Childers